You need caregivers.
Say goodbye to the manual, disorganized, and energy draining daily back-and-forth of prescreening caregivers.
Say hello to your organization's new recruiting assistant. Get prescreened caregivers automatically every single week.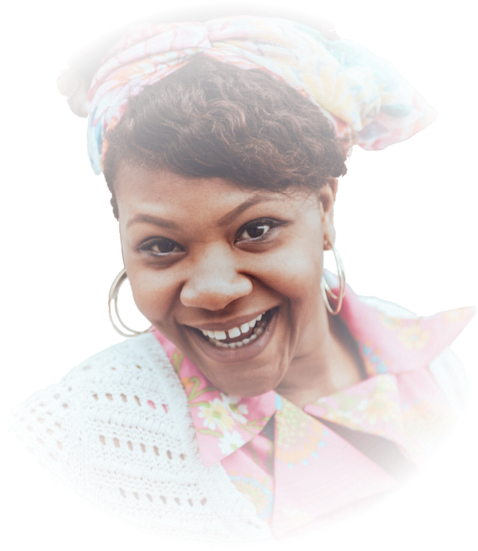 ---
Questions & Answers
Go here
for more detailed answers
ChirpyHire is a recruiting tool and a two-way SMS messaging service that lets you customize text based surveys for candidates while you chat with them, at scale. This is good.
ChirpyHire works within your existing recruiting efforts. Candidates from your existing job ads flow through ChirpyHire or you can upload passive candidates you might like to reconnect with. All this integrates with your CRM, ATS, or other "heavy duty" tools - enabling a seamless transition from top-of-funnel to new hire orientation.
Easy! ChirpyHire is a two-way messaging service that saves time and money. It lets you leverage the high volume sources of caregivers on the internet - Indeed.com and Craigslist.com (for example) without the traditional hassle or roadblocks of telephone/email "ping pong", incomplete applications, survey fatigue and other boring stuff! This is good. This is not bad.
You own all of your data. You are in full control. Visit our terms for more details.
Seconds! Create an account and update your existing job ads with your ChirpyHire 'call to action' or upload the list of candidates you'd like to reconnect with. Within hours, candidates start flowing in. But... Be careful, ChirpyHire makes recruiting fun and it's kind of addicting...
We have a 14 day free version. The goal is to let ChirpyHire 'pay for itself' as you become a 'Raving Fan'. We have a variable pricing model that can be customized to your ongoing hiring needs. This is good.
My name is Harry. I'm just a regular guy from Atlanta that wants to help those who put their hearts on the line everyday for our senior citizens.
Our mission is to 'Make recruiting personal'.
---
Software Powered Recruiting Assistant
Everything you need to prescreen caregivers efficiently
Reach more caregivers
Contact caregivers daily and get more quality applicants
Help more clients
Reduce the number of clients you turn away due to caregiver shortages
Stop losing time
Free your staff to focus on cultural fit and core values
---
Reach more caregivers
Keep a copy of your recruiting ad for easy job posting and leverage popular recruiting channels such as Craigslist, Facebook, and more.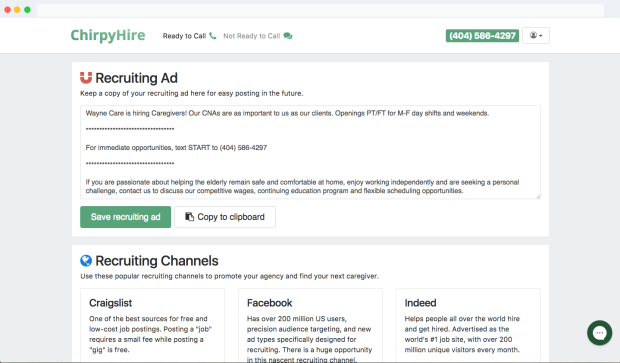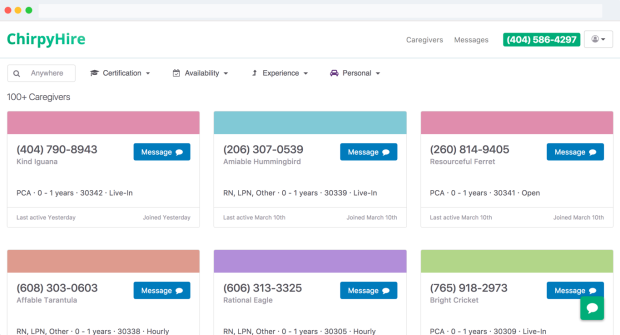 Help more clients
ChirpySearch provides easy access to the hundreds of warm caregiver candidates active and ready to connect with you.
Stop losing time
Automatically identify the need-to-know traits about each caregiver before interviewing them. Free up your staff to focus on caregiver / client fit and caregiver retention.